Born on the 19th of October at 05:50 weighing 7lb 7oz. He was born at home in the birth pool after an unexpected 8hr labour only 4hrs after the midwives arrived (I was in labour 26hrs with my first son)
So he is now 11 days old and I havent had much time to do anything to be honest. I have crocheted a few bits for him including a cardigan, hat, booties and mittens.
I also made a hat, mittens and booties for my neice who was born in September: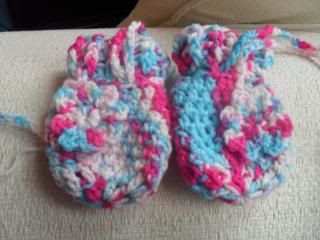 on the babywearing front newborn snuggles rock! I didnt wear him the day he was born since i spent most of it catching up on sleep and being generally pleased that he'd arrived, early (unlike big brother who was 13 days past due date) and I'd had a fabulous labour and birth experience. So he got to go in a sling for the frst time at 1 day old:
Here he is in a holidaying short wrap that my lovely friend sent me especially for my newb snuggles:
So far we have discovered he seems quite laid back (of course there is plenty of time for this to change) he likes to be snuggled (as all babys do) and that big brother is besotted with him. George is truely fascinated and wants to sit next to him all the time. He also likes to point out Dexter's body parts since we have been teaching him his. Think we might leave eyes for a while though...